Post by linefacedscrivener on Mar 29, 2020 16:52:58 GMT -5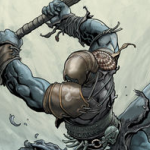 I remember our Deuce posting something about 'Hrobjartiana' in the
August Derleth and Arkham House
thread:
swordsofreh.proboards.com/post/21832/thread
Interesting that "Hrobjartiana"
refers to one of REH's self-bestowed nicknames, "Hrobjart Havard-son"

I also googled it up and found a facebook post by Booby Dee:
www.facebook.com/photo.php?fbid=10108153185033681&set=gm.2059870790941746&type=3&theater&ifg=1
"I was interested in your drawing of your Viking dream-self.....a sturdy soul, who I hope will never catch my Roman self in any shadowy oaken wood far from the camp of the legion!"
—H. P. Lovecraft to Robert E. Howard, 6 Aug 1931, MF1.185
"Here are three more letters from Hrobjart Havard's-sen the Reaver. Damn it, but I envy the boy his fund of energy & vigour of historical imagination!"
—H. P. Lovecraft to August Derleth, early Dec 1932, ES2.530
"Glad the Terror of the Plains proved epistolarily entertaining. When you say the word I'll shoot along some more Hrobjartiana. He certainly looks his temperament in the snap shot….Ajax defying the lightning! Some day he ought to get a bit of that Southwestern colour down on paper."
—H. P. Lovecraft to August Derleth, mid-Dec 1932, ES2.531
This is apparently a reference to Robert E. Howard's dream of himself as a Dane, converting his name to a Danish equivalent; a drawing of this character is known from ca. 1931. (CL3.523)
Thanks for all the great posts Linefacedscrivener.
You're welcome, Hun. And thanks for the response. It does explain some things, which helps put this in context, but still, the Ajax pose referred to by Lovecraft . .. could the "Dude on a Rock" be the pose he was referring to? Pursed lips, defiant stance, aimed spear .. . scroll . . . pistol?
Don't get me wrong. I'm not advocating it IS Howard, just curious. Actually, in some ways, it looks more like a young Derleth than a young Howard. Which, if truly found in Derleth's papers, might explain that. And the annotation on the back of that photo that I read somewhere (Can't remember just where???), maybe it is what Derleth thought looked like a REH pose?
Too many what ifs to be sure, for sure.